Roles:

 
Design Consultant, 
UX/UI Designer, Brand Designer
Key Skills:

 
UX Design, Visual Design, Design Research, Prototyping
Duration:
  Nov 2019 - June 2020 (8 Months)
Deliverables:
 Branding, App & Web Design, Social Media Design
Tools:
Figma, Adobe Creative Suite, Wix, Google Suite
Client:
Fitfannie Fitness
Project Team:

 
The team consisted of a project manager, a content & brand strategist, a character designer, and two developers.
Help a fitness startup create their product's MVP as a proof of concept to present to potential investors 
Fitfannie is a fitness app that aims to break the emotional barrier of fitness for midlife women who want to start or restart their fitness journey. I was approached by the startup founder to help in defining and creating the visual design and user experience of their IOS app.
Ultimately, I delivered a final set of high-fidelity designs, an interactive prototype, a style guide, a design system and branding guidelines to Fitfannie.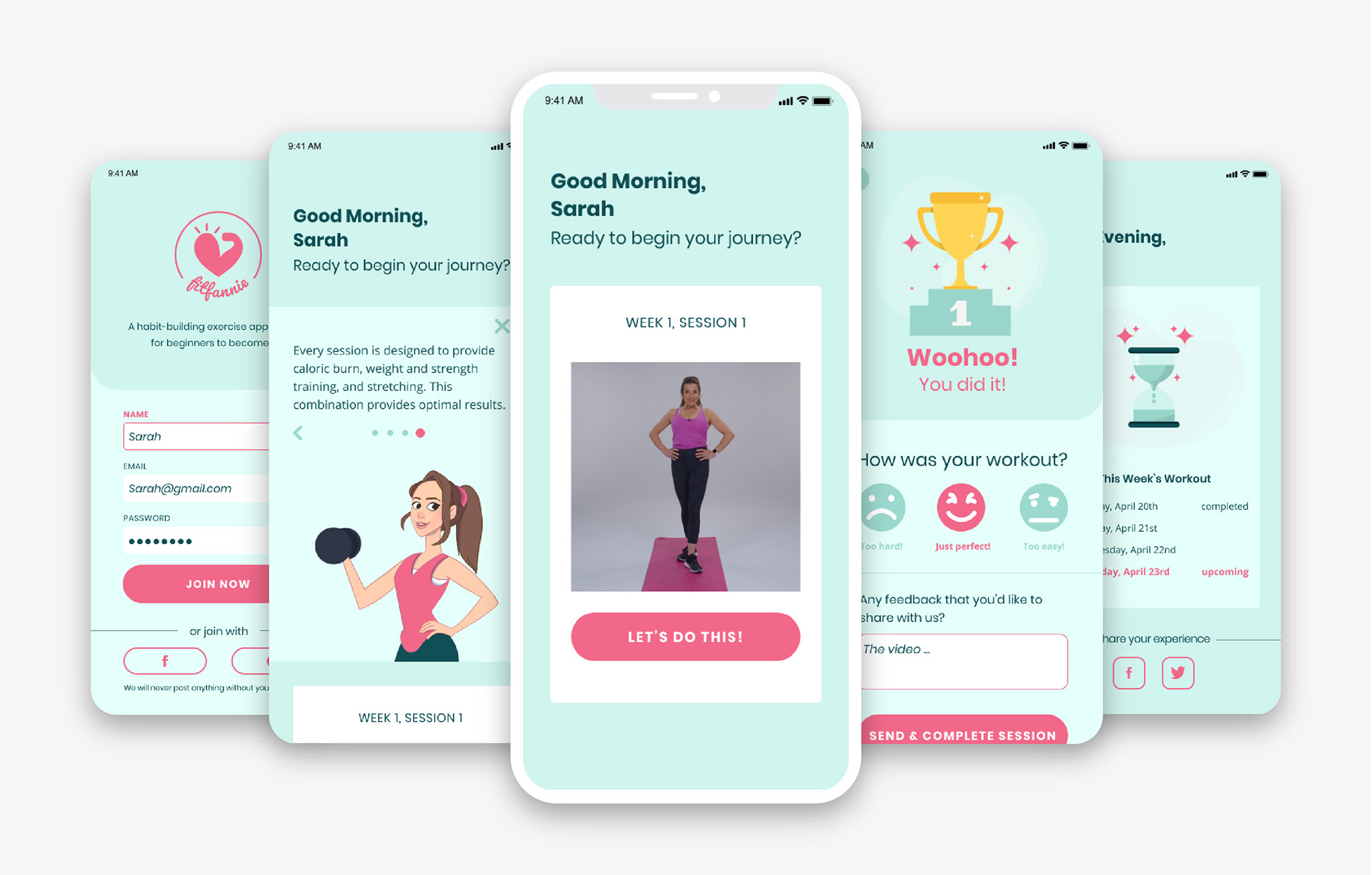 When designing Fitfannie's app branding, my main intention was to create a calm and inviting space with sparks of excitement. 
For this, I created the UI, Logo and the App Icon balancing the two primary colors, light blue-green and pink, one representing mindfulness and one representing movement and energy. In the logo, I used an all-lowercase script typeface to create a sense of approachability and casualty.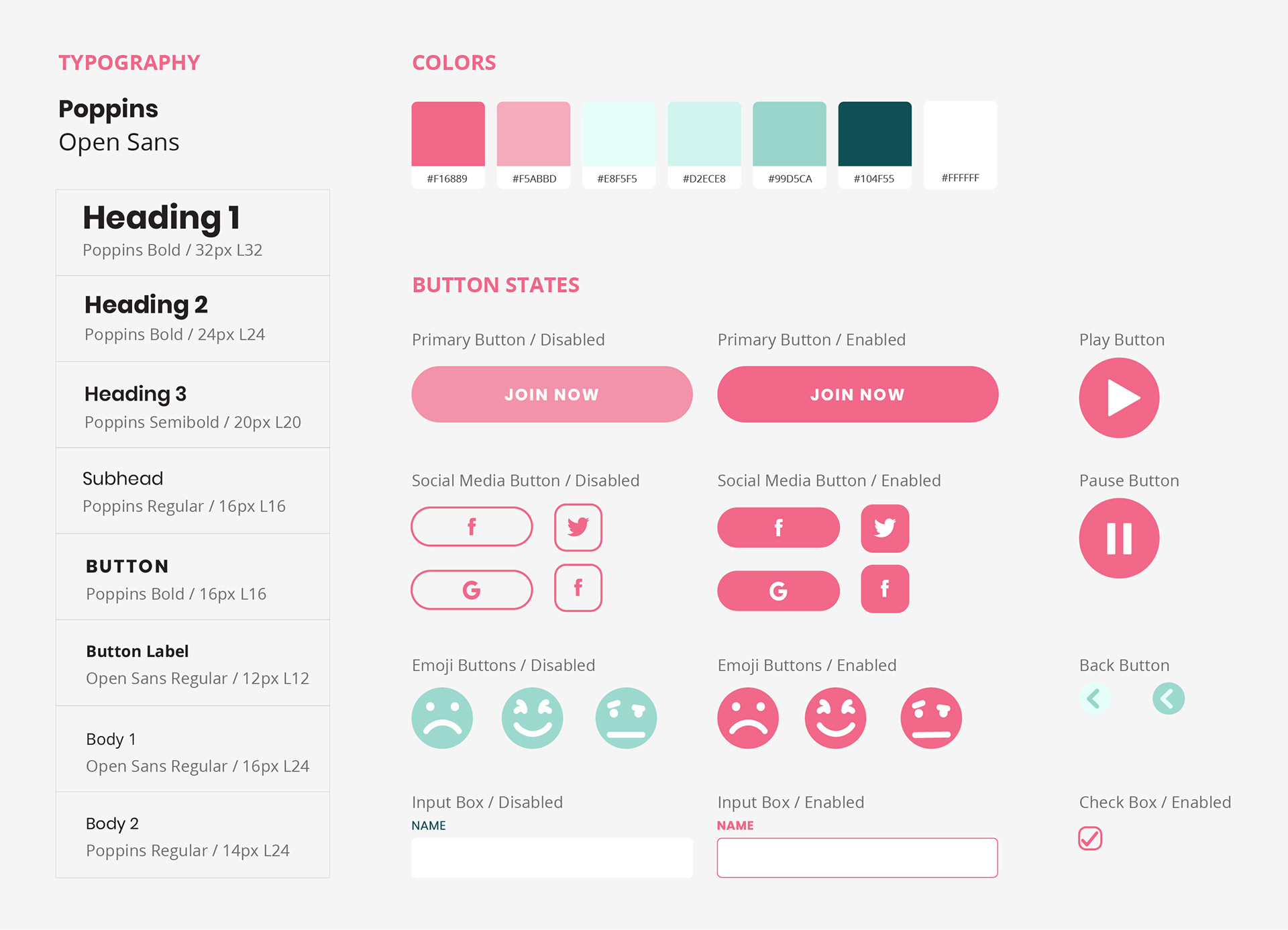 Since the team did not have a UX researcher, I took it upon myself to do some initial research before starting to design. 
The research guided the design strategies moving forward and it served 3 purposes:
1. Learning about the
company  
2. Understanding the
users
' needs and goals
3. Studying and analyzing the
competitors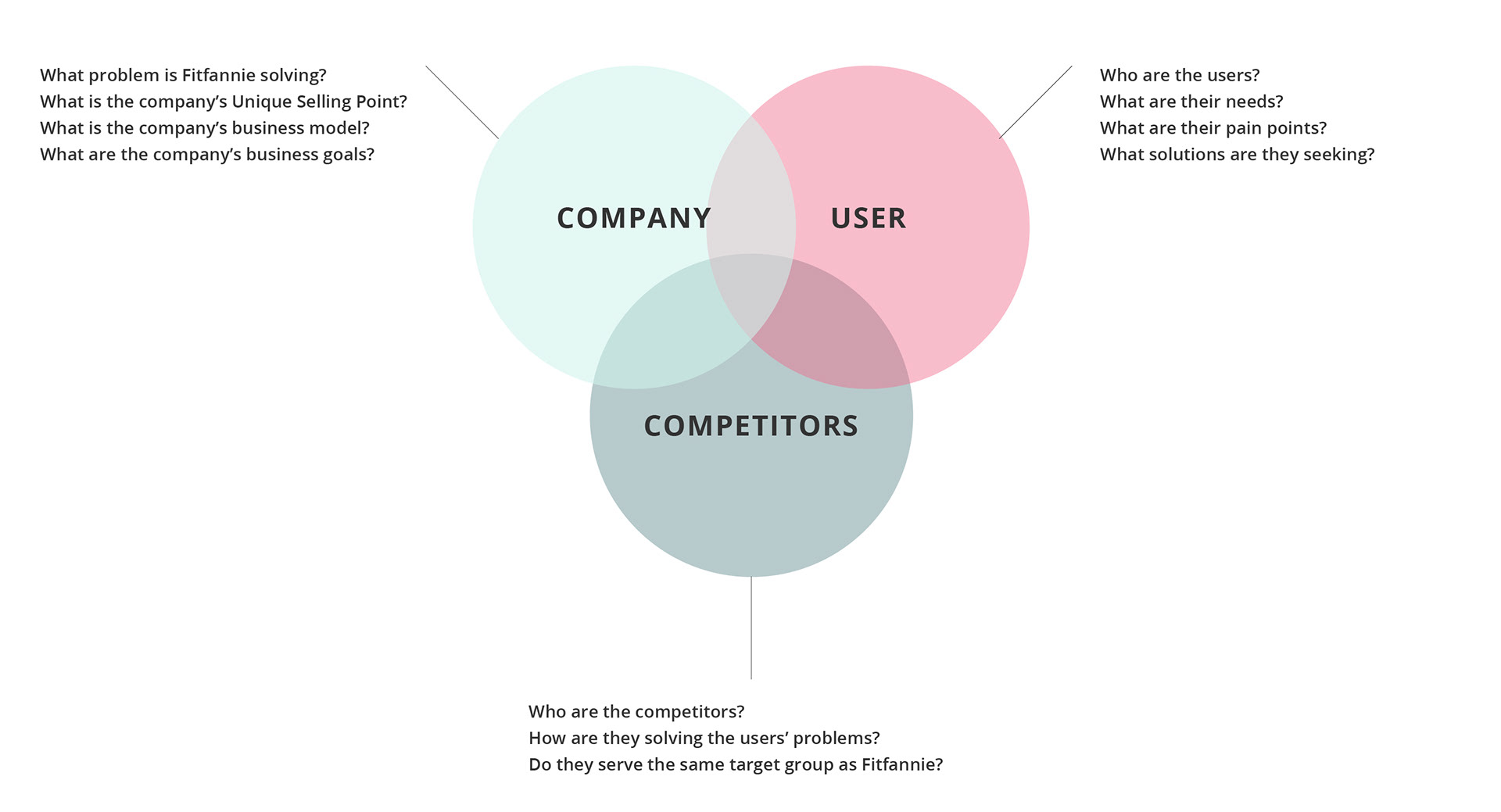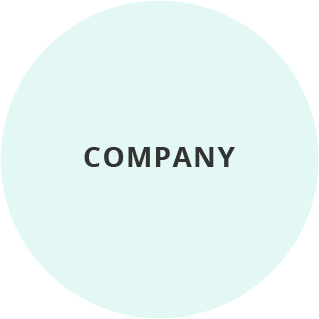 Fitfannie helps women restart their fitness journey by breaking the emotional barriers towards exercising.
After holding several discussion sessions with the founder and the brand strategist, we defined the problem that Fitfannie aimed to solve and the solution that it promised. 
Middle-aged women who have lost touch with exercising need a fitness platform specifically designed for them that lifts them up and encourages them to restart their fitness routine.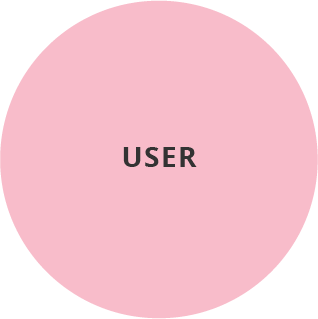 Based on the insights from a user research survey with 100 participants, I created an empathy map that reflected the user's needs and goals. This empathy map helped me make better design decisions and set priorities along the way.
The main goals of this survey was to understand:
►  What percentage of our users already have a habit of exercising and what percentage hope to develop this habit.
►  Whether users are open to exercise using a mobile app in contrast to going to the gym or having a personal trainer.
►  What motivates them to exercise and what prevents them from exercising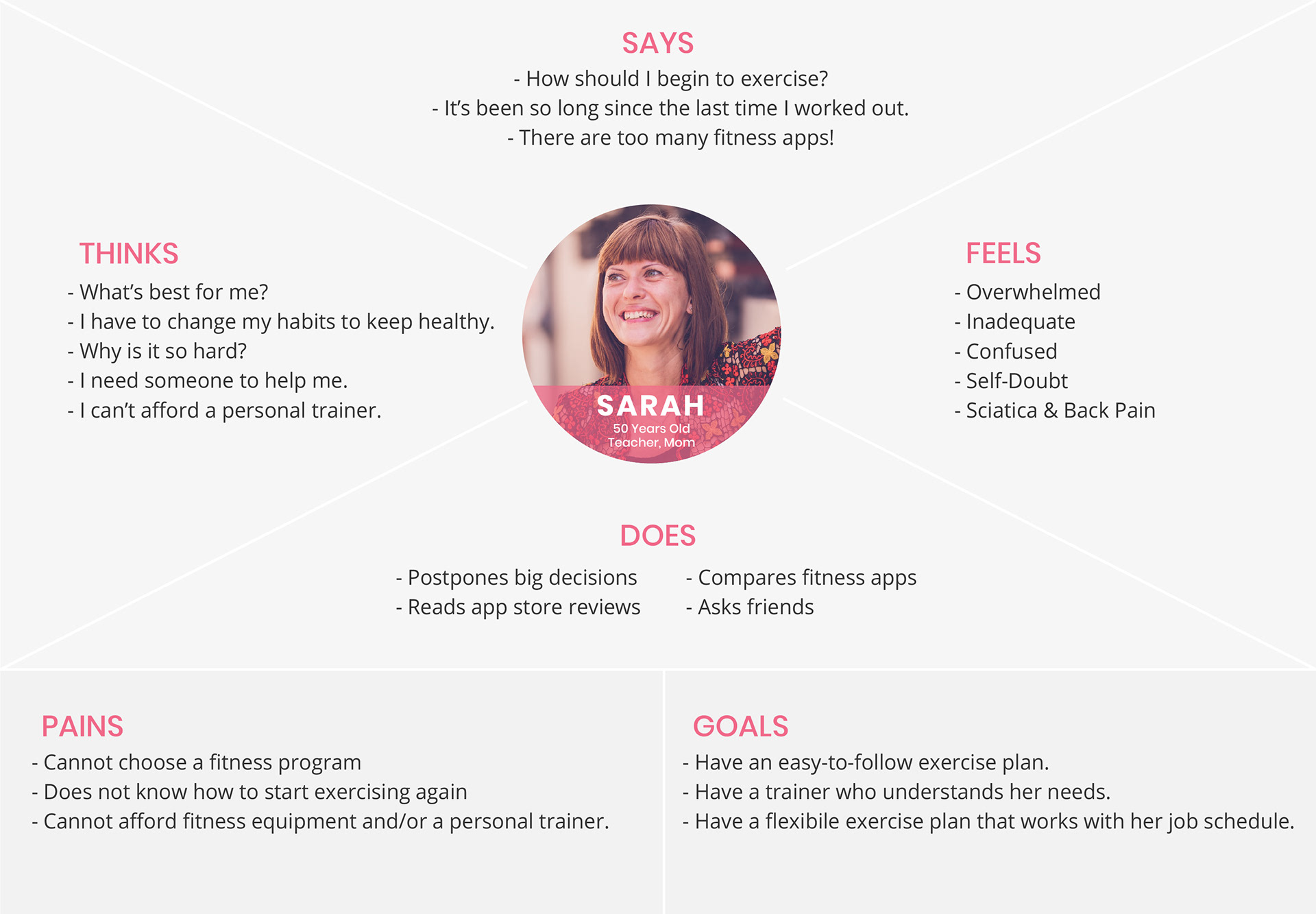 After running a competitor analysis, I found out that none of the fitness apps considered both the mental and the physical wellbeing aspects of exercising. This understanding confirmed our hypothesis and helped solidify Fitfannie's USP.​​​​​​​
After identifying the top 5 competitors, I created a competitor analysis to investigate their products' features, user journeys & reasons behind design decisions. 
We found that although the fitness & wellbeing app market is highly saturated, there are 2 main approaches that all other apps follow:
►  Focusing on mental wellbeing by providing stress relief/control exercises such as yoga.
►  Focusing on physical wellbeing by providing cardio, aerobic exercises and, nutrition plans to encourage weight loss, muscle toning, etc.
After finishing the first phase of research, I composed our HMW question that helped and directed us in the production phase:

Main Concept & Wireframing
I created a flow that modeled after a physical training session. In this model, users are given one session at a time and proceed to the next session only after completing the first one.
The majority of users were not tech-savvy and had not used an exercise app to work out before.
It was very important to keep them engaged without overwhelming them with too much decision making. 
When wireframing for this experience, I asked myself:
►  How can users' past experience translate into this new platform?
►  What are her expectations?
►  How tech literate is the user?
The first set of wireframes included a minimum of 20 pages with a long sign-up process. I created an interactive prototype of the high-fidelity wireframes and tested it with a few users. Based on the user testing result, we decided to proceed the design with the 5 key screens.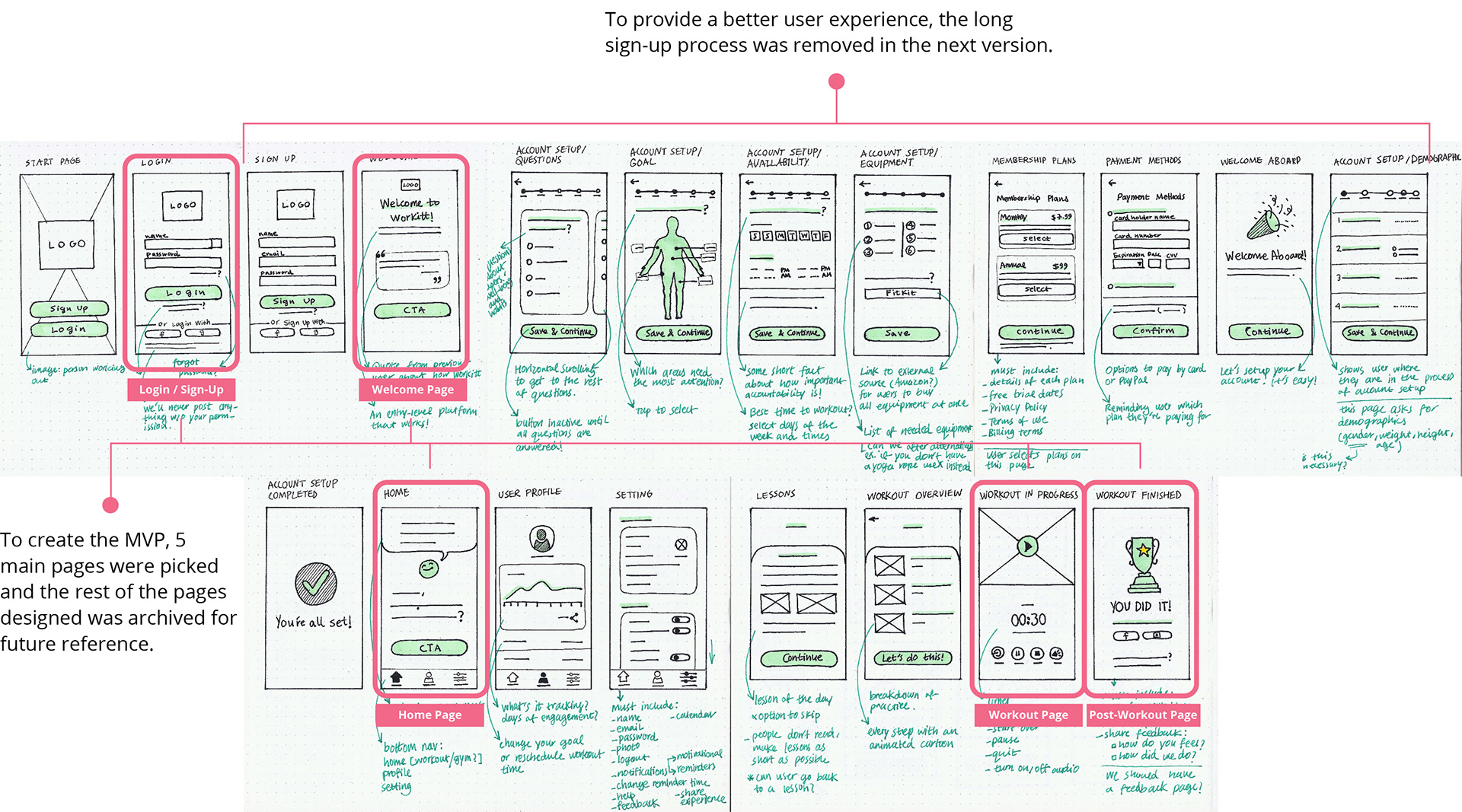 In the second version of the wireframes, extra pages were removed and a few features including the health disclaimer and introduction to the program were added.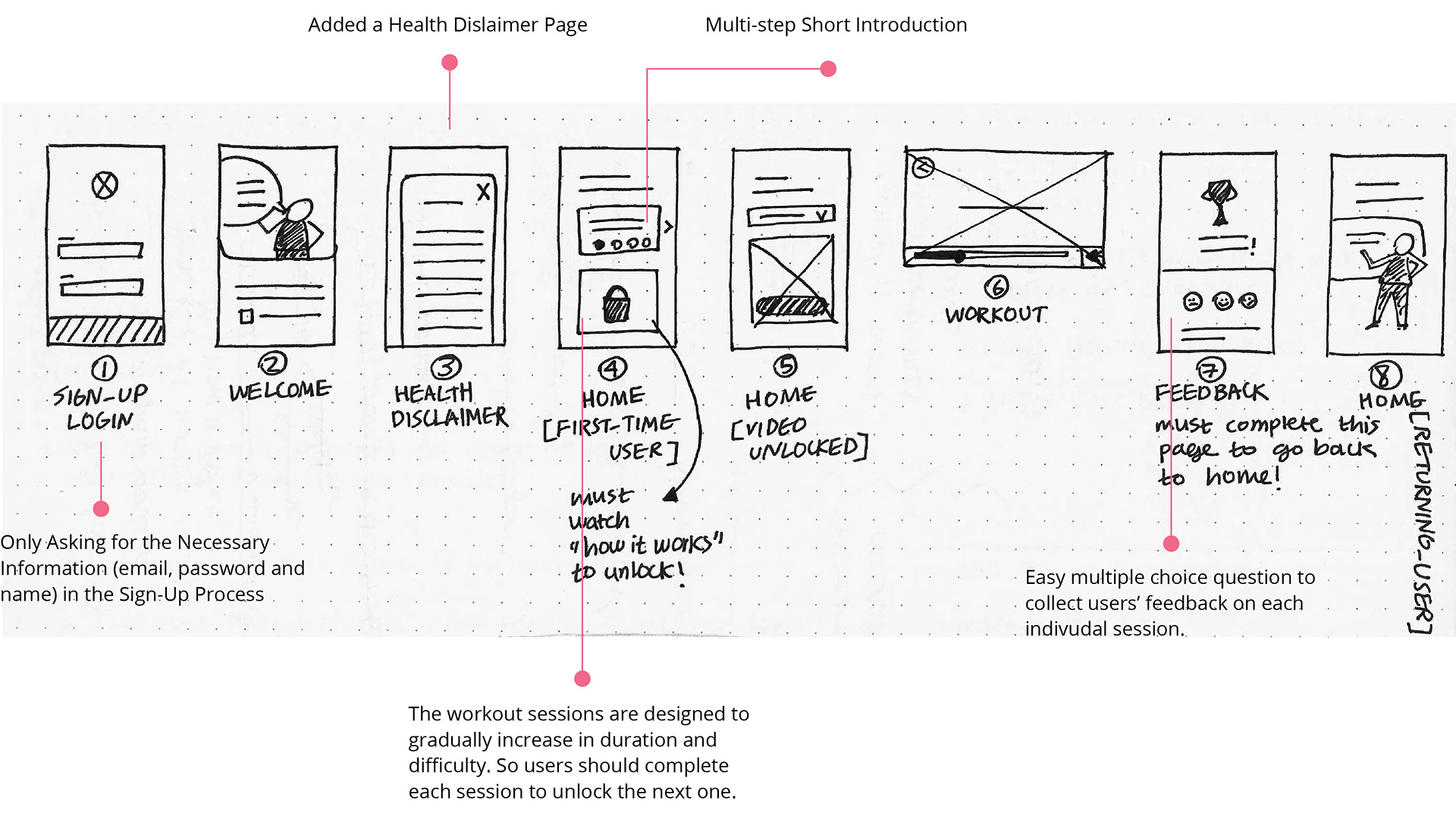 After translating the wireframes to the final interface, I created a prototype to communicate my ideas better with the development team.
After having a few conversations with the development team and making some changes to the design to avoid technical difficulties, the final prototype was coded and published on App Store.
The prototype below displays the flow of signing-up and completing the first workout and returning to the home page.
The MVP consisted of 7 pages and 3 main flows: the sign-up , the home screen and the workout.
Building trust
by not asking for users' data in the sign-up process, except for their email address and name.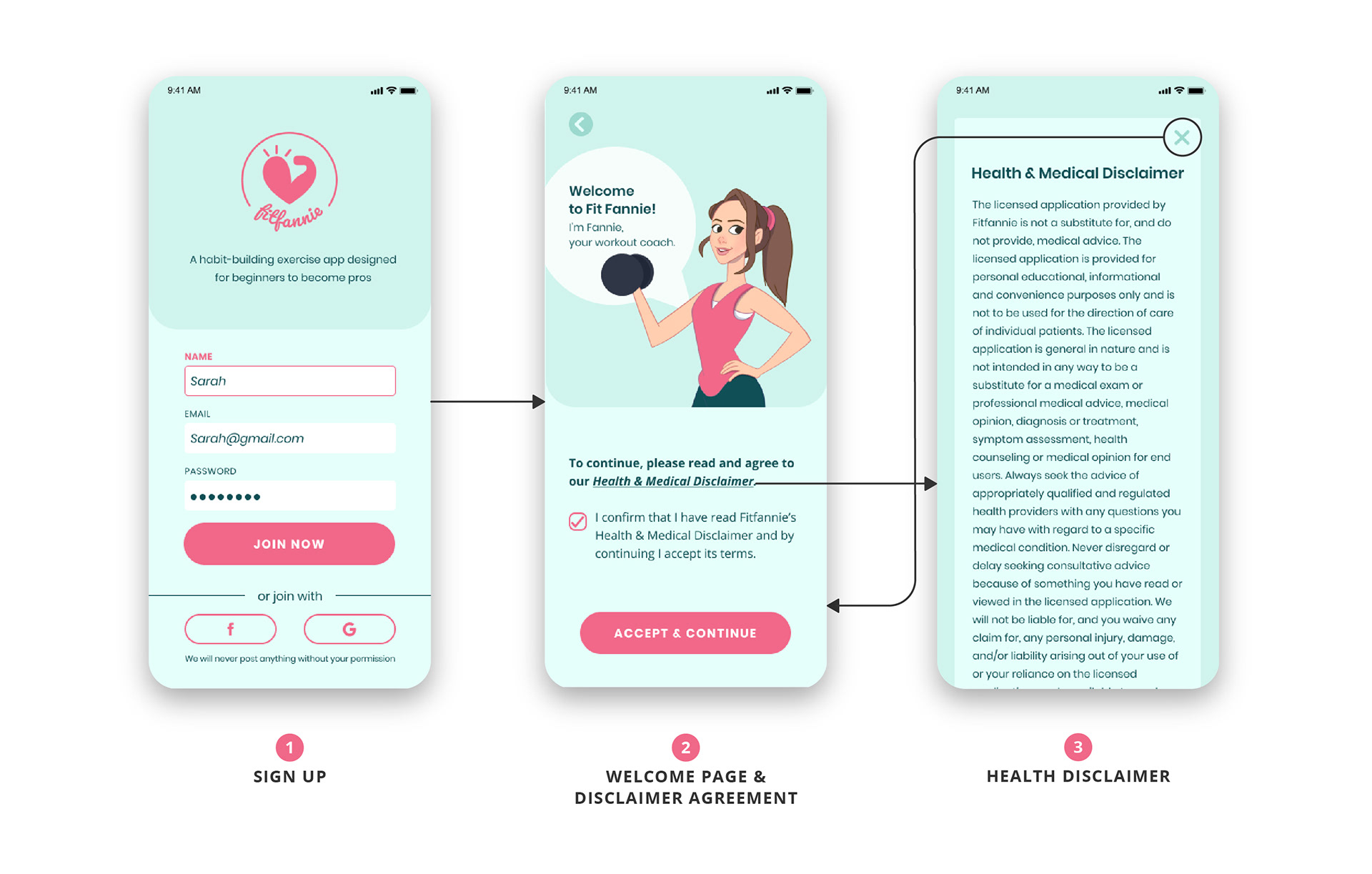 Eliminating the burden of decision-making
by providing one exercise session at a time.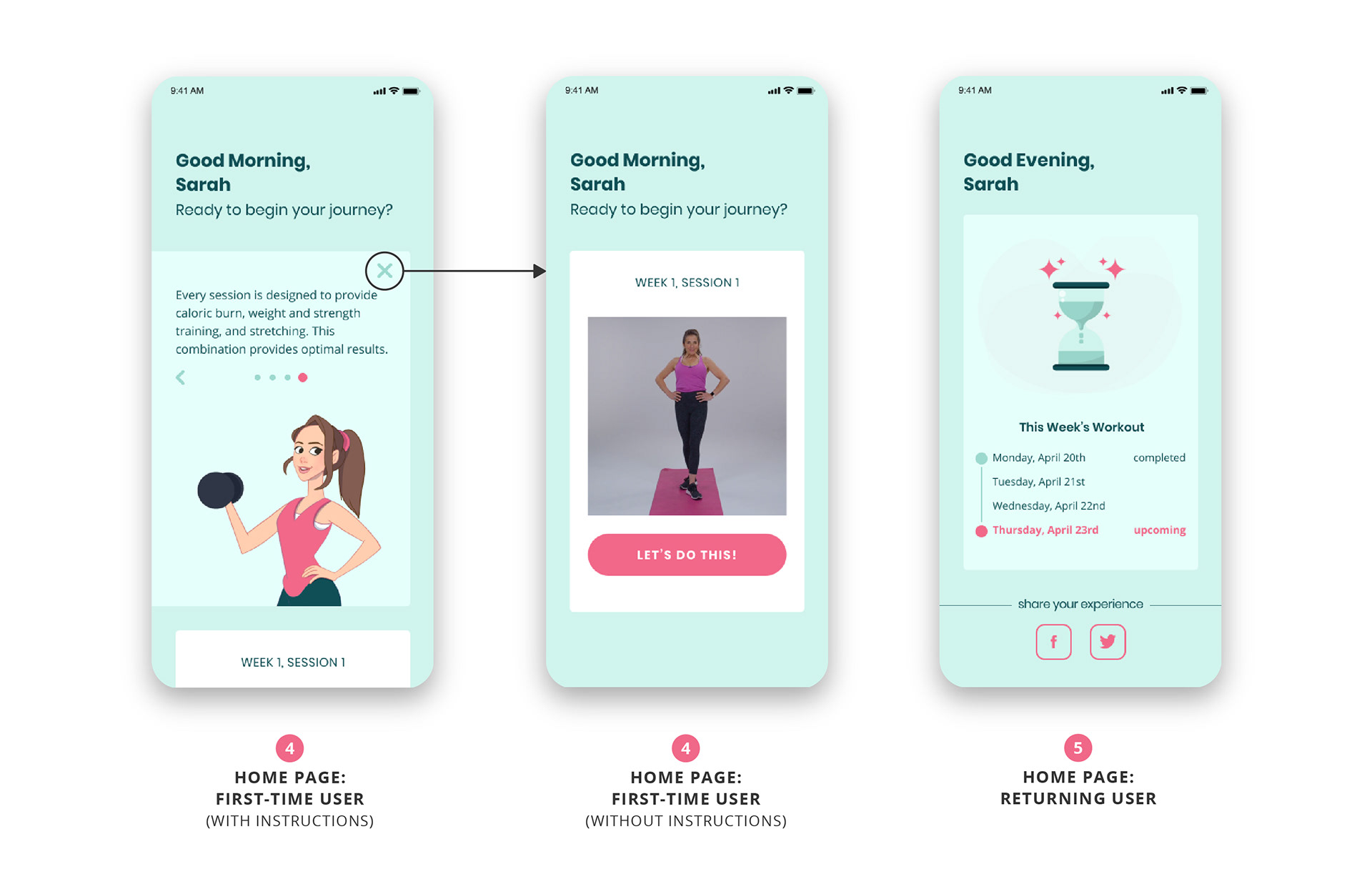 Challenging users
one session at a time with exercises that gradually get more difficult and having
a personal approach
that leaves room for users' feedback after every session.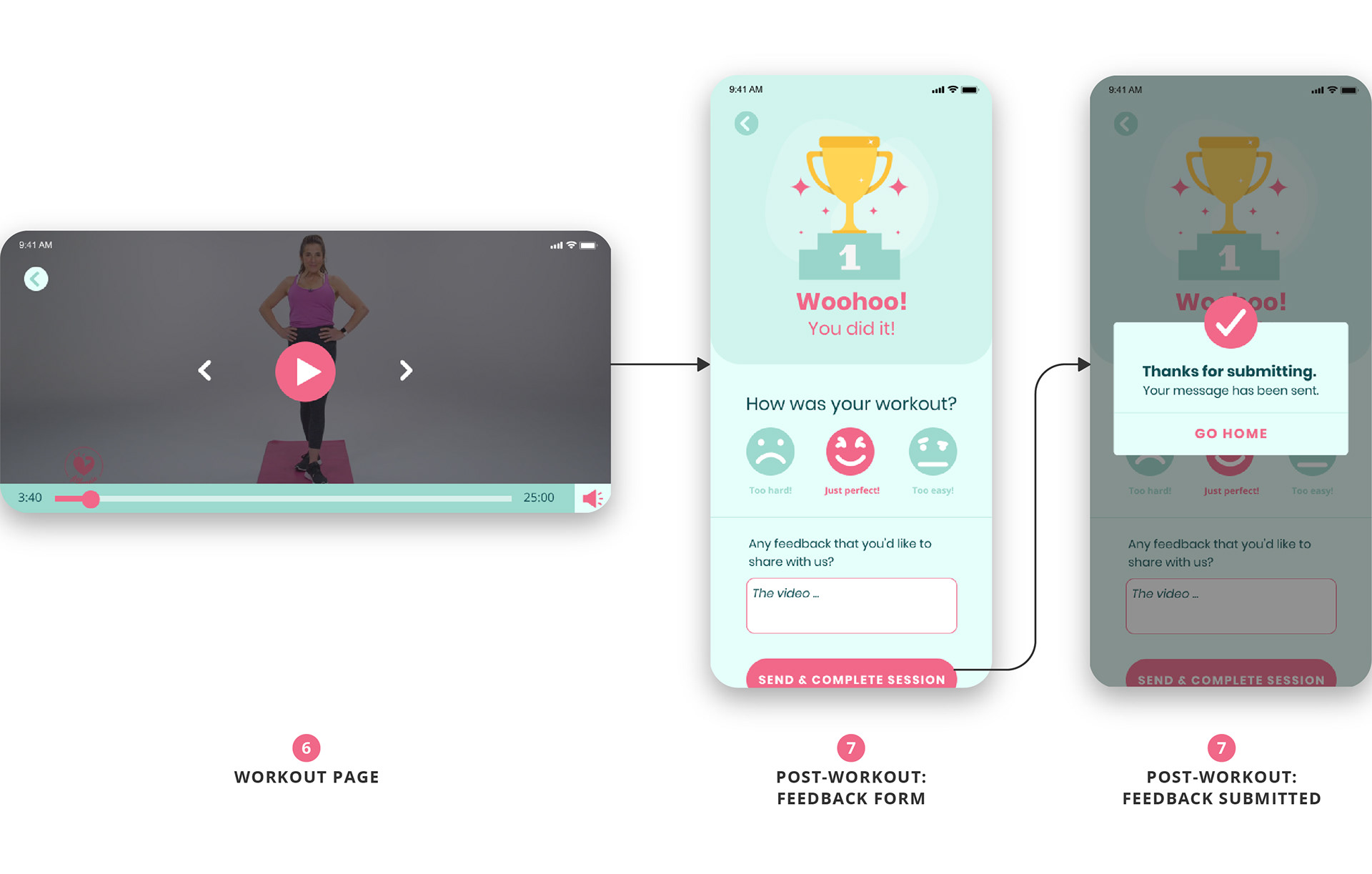 After successfully delivering all the material that the Fitfannie team needed to move on to their next production phase, my collaboration with the team ended.
During my 8 months of collaboration, I provided them the following services:

- App UI/UX Design
- Brand Identity Design Assets
- Web design
- Social media Campaign Media Assets

- Design Consultations for the second phase of production
Working with a startup and building an experience from the ground up has taught me valuable lessons that I will take with me to my next project. Here are my final thoughts on this experience:
Change is the only constant:
In a startup environment, plans constantly change. Adapting to the constant changing environment of the startup was one the biggest challenges that I soon learned to overcome.
Going wide and not deep:
As the sole designer in the team, my hands were full with different design tasks including the app design, web design, social media campaigns, brand identity design, etc. This situation allowed me to take a wide range of tools and skills to use which I found very beneficial.
A continuous journey:
Although my collaboration with Fitfannie ended, the project is still ongoing. If I were to continue working on this project, the very next step would be:
a) Holding usability testing sessions to determine what has worked and what has not.
and b) Adding a progress tracking feature to increase users motivations towards exercising.